What a week that just passed! Traveling, shoppping, going over to grandmom's place, a wedding ceremony, more shopping, farewell to mom and siblings, and much more traveling! I have a suitcase always packed!
Now, WHAT a way to sign off the week! Winning!!! I came home last evening and opened my laptop, my fingers automatically typed the url of my blog, they were excited somehow ( my intuitions mostly, always, preceed the actual), and lo! I have 2 big surprises waiting for me! I smiled, gave my hubby the surprised look as well as that which said, "I told ya!" and then smiled again..
My daughter's picture that said "beauty in scarf" was an entry at Amy's Color Splash Sunday meme. Amy thought it was the best entry last week!! Cheers!! Thank you Amy! It was one of my favorite pictures of my Angel and now we all know why! :) Thanks again!
(I had my eyes on this button ever since I saw it a couple of weeks ago, my daughter just brought it home for me! :)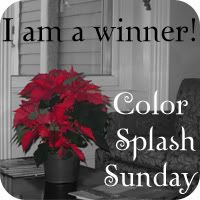 As if that didn't bust the stress of my week long activites I had yet another sweet surprise waiting for me! "Outstanding Blogger Award"!
It came from my friend and a wonderful mom, Mama Hen! Now I am really smiling to glory! Thank you Mama Hen for your sweet gesture, I am touched!
I pass this award to Neel, Amy and The Mommy! I love what they do with their creative juices that makes their blog so outstanding! Congrats to you all!